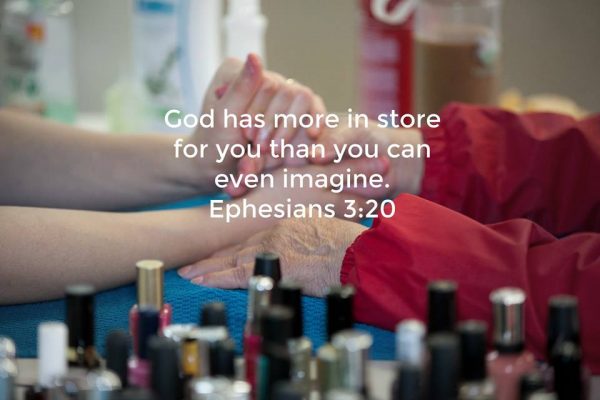 Because Justice Matters  or BJM, is a San Francisco based 501C3, (EIN #94-3218675), operating in the Tenderloin since 2008.  It is a ministry of YWAM San Francisco, an international missions organization (Youth with a Mission).   BJM exists to specifically address the unique needs of women and girls, often undetected by other care organizations.  In the Tenderloin, one of San Francisco's most challenging neighborhoods, many of the women have experienced sex trafficking and other forms of exploitation, and are in desperate need of the most basic requirements.
BJM's legacy program called Nail Day provides a desperately needed safe haven for homeless and otherwise isolated women to gather, rest, share and receive care.  Whether to enjoy a quiet cup of coffee and conversation at the art table, or to be pampered with a manicure, Nail Day is time set aside to affirm, encourage, pray and connect with friends and resources. This community of faith and friendship provides support to overcome challenges related to health, housing, employment and above all self-worth.
Because Justice Matters is 100% volunteer based.  All donations to BJM go directly to programs benefiting women and girls. The ministry team consists of a small, but dedicated team of full-time staff members, brilliant interns and literally hundreds of volunteers.  Staff members do not receive salary, and are responsible for raising their own support.
Through ongoing outreach and education programs, BJM works to break the cycle of abuse and to ease the challenges associated with homelessness, poverty and isolation.
BJM serves diverse populations of women and girls living in the Tenderloin with programs designed specifically to empower and build community.  Here is a brief overview of BJM's vital ministries:
Nail Day – BJM's legacy outreach to women began in 2008 on a folding table on Ellis St. offering manicures on the street as a way to make connection. Today, the weekly event welcomes on average 30 guests, some of whom are old friends, some are newly on the street. Many have experienced homelessness, poverty, addiction and abuse. Nail Day is a safe haven where they find rest, hospitality and resources necessary for community and restored dignity.
Dance and Mentoring for Youth – It has been said that "Girls who dream become women with vision."  BJM's dance classes for girls in the Tenderloin provide powerful and fun opportunities to foster creativity, leadership and self-esteem. Girls as young as 5 to 15 have the opportunity to learn dance, choreography and performing arts, as well as engage in discipleship, while learning important life skills. Now in its 4th year, girls who have been mentored are now leading and teaching younger students, encouraging leadership and community.   
Educational Programs and Workshops  – BJM offers small groups and workshops on healing and forgiveness, healthy boundaries, healing through art, overcoming trauma and domestic violence, and many other life-giving ways to positively connect and equip. 
For more information on Because Justice Matters, please visit: www.becausejusticematters.org.